Description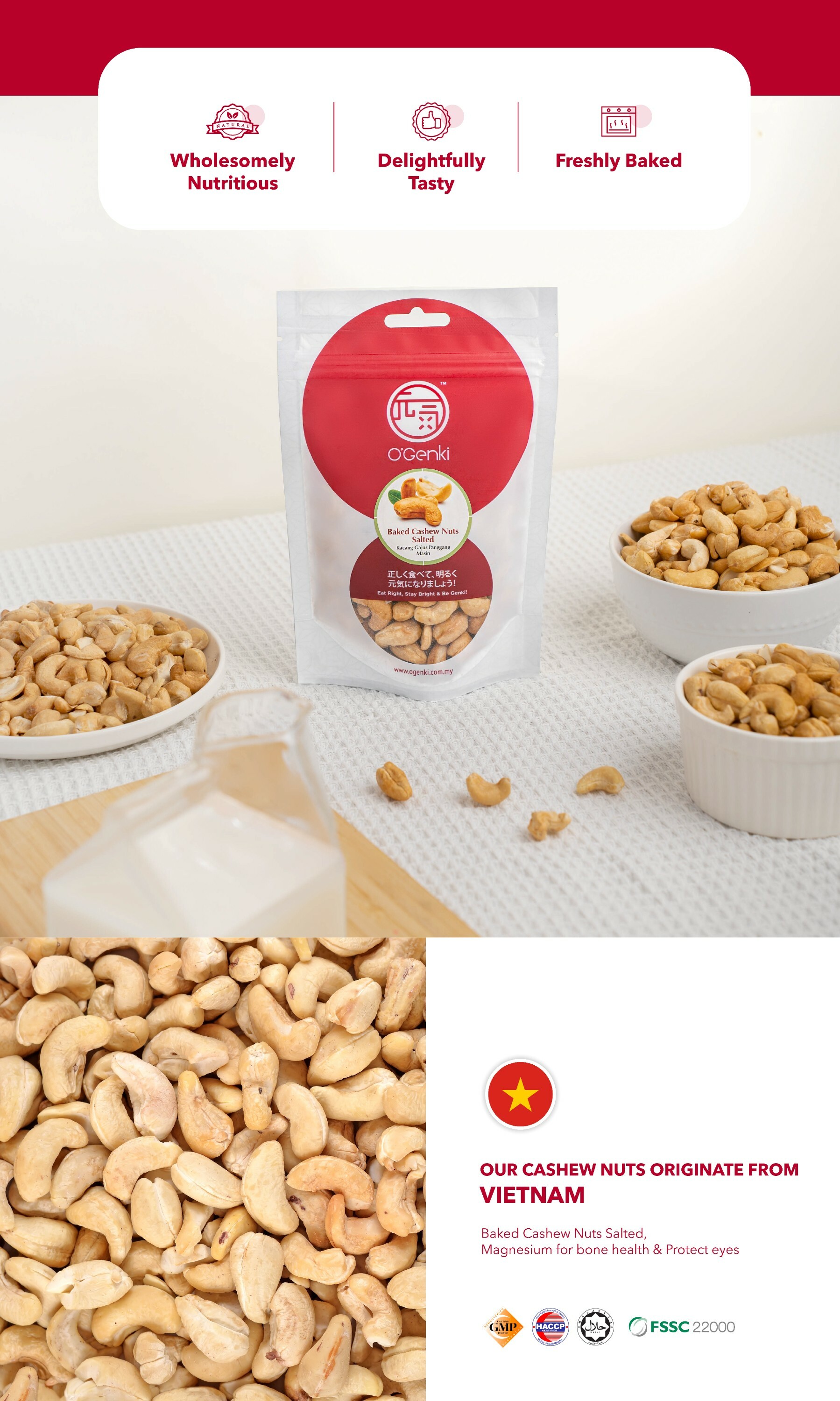 Nutrition Information

Serving Size:

 

30g

 

 

Serving Per Pack:

 

4

 

 

 

Per 100g

Per Serving

Energy

580

kcal

232

kcal

Protein

16.8

g

6.7

g

Carbohydrate

29.9

g

12.0

g

Total Sugars

5.0

g

2.0

g

Dietary Fibre

3.3

g

1.3

g

Fat

47.8

g

19.1

g

Monounsaturated Fat

25.9

g

10.4

g

Polyunsaturated Fat

8.5

g

3.4

g

Saturated Fat

8.5

g

3.4

g

Trans Fatty Acids

0

g

0

g

Cholesterol

0

mg

0

mg

Sodium

80

mg

32

mg
Country of origin: Vietnam
About the snack:

Baked daily. The nuts are baked daily to ensure we are ableto serve the nuts in good quality.
 - Freshness guaranteed & premium quality
 - Lightly salted , no oil added in baking process
 - No MSG, no preservative, no flavorings and no starch added
Nuts has been grown, processed, manufactured under conditions which comply with sanitary and food regulations of the origin and manufactured country.
Ingredients:                                                                              
Cashew Nuts and salt.                                              

Shelf life: 
6 months
Allergen info:                                         
Contains nuts. Produced in a factory that also producesproduct contains wheat (gluten), milk and soybeans.
Storage Tips:
1. Avoid exposure to direct sunlight.
2. Store in cool and dry place.
3. Avoid exposure to strong smells, as cashew nuts canabsorb odors of other materials if exposed for prolonged periods.
Customer Reviews
{{'product.product_review.no_review' | translate}}